When they say that Kyoto is a real treasury of history, have no doubt: just to give an example, they have a dumpling shop that is over 1000 years old. Considering that it's a family business, this means that somewhere in this city lives a dumpling cook in 25th generation…
Just walking around the city, you will discover lost of interesting places hidden around the corner, be it an old building, or an ancient statue, or a temple. Because of that, you will probably want to include in your itinerary some free roaming time outside touristic areas.
Five days is enough time to explore Kyoto with no rush and even make a day trip out of the city. With maximum efficiency, it is possible to visit the main sights in just three days, but you should decide first whether you just want to check boxes on your bucket list or really see Kyoto.
In many touristic cities the most interesting sights are grouped together in a "touristic center". It's not the case in Kyoto where you have to hunt them in the suburbs. Because of that it is the most convenient to stay around the main train station and travel in a different direction each day. I put this itinerary together with an assumption of accommodation somewhere in the city center.
Day 1: meeting Kyoto
Kyoto doesn't have its own airport, and tourists usually come here by shinkansen (the famous bullet train) from Tokyo or Osaka. Comfortable and surprisingly spacious seats will help you restore some energy, and the train's speed will make sure you have a lot of time on arrival to Kyoto.
I suggest allocating some of this time for long travels within the city. This way it will be possible to limit travel the next days because then you could just go to one district per day. The longest ride from the train station is to Kinkaku-ji temple, also known as the Golden Pavilion. Start exploring the city with its most iconic view (which will appear next to Kyoto name in all airports, blogs and even on Google maps).
On the way back from the Pavilion make a stop at the Nijo castle. Unfortunately, I didn't make it there because of bad weather and consequent lack of time. Just like in Tokyo, no luck with imperial constructs =(
Next to the train station take a peek into Honganji temples – they are conveniently on your way, and there is pretty much zero visitors there. I strongly recommend going there on your first day in Kyoto, because, as you see more temples, these will seem less impressive in comparison.
Still have some time? Take an elevator up Kyoto's TV tower.
The tower is quite old and short, and Kyoto city view is not really breathtaking, but the green hills all around are nice!
Grab dinner at the train station – there are plenty of restaurants on the top floor of the shopping mall.
Day 2: temple walk
This day is dedicated to the "old" district of Higashiyama and its temples. Skip transportation and discover Kyoto streets on foot to experience this city made up from colorful patches of modern and millennium old buildings.
The first interesting stop on the way to Higashiyama is Sanjusangen-do, or the temple of a thousand Buddhas. Quite boring and generic on the outside, it hides a really unique treasure inside (can you guess which, from the temple's nickname?).
Afterwards direct your way to Higashiyama itself. The most popular place in the district is the Kiyomizu temple, and it's well deserved.
The building is located on a steep hill slope, so you would either have to climb the hill or get a cab. But the view from here is much more interesting than from the Kyoto tower.
Higashiyama is extremely touristic nowadays, so it's not an issue to find a place for lunch.
All buildings are decorated in a traditional style. Even Starbucks maintains the common theme:
Instead of ordering dessert in a cafe, take a look inside souvenir shops. Japan is famous for its sweets, so there is a wide range of desserts to choose from. Get the most weird-looking ones and head to Maruyama park to enjoy your little picnic under sakura trees.
As usual, I kept the best experience for later. Heian shrine was marked optional in my own itinerary, and that was a huge mistake! The temple's garden is a real hidden gem. It still puzzles me why this place is not experiencing the same tourist flows as, for example, the Golden Pavilion. Come here to find your inner peace and see what all Kyoto temples probably looked like a few hundred years ago.
The peak of temple madness is Kanga-an, the restaurant temple. Buddhist "haute cuisine" is a perfect end for a day allocated for Japanese religious experiences. Be prepared for strange 😉
Day 3: nature of Arashiyama
After a day full of intensive walking it's really great to relax in Arashiyama district in the west of Kyoto. Quiet and scenic nature is the best way to detach from the usual sightseeing rush.
Refer to my previous post to plan a day in Arashiyama.
Day 4: side trip!
A fortunate location of Kyoto makes it a wonderful base for visits to many other interesting places, including the ancient Japanese capital of Nara with its deer park and Himeji city which owns one of the most beautiful castles of Japan.
Our chosen side trip was to Hiroshima and Miyajima island. Looking back, I can't say it was a good choice for just a one day trip, because there was catastrophically not enough time for both places. But that's a whole different topic.
Day 5: culture
Wake up with the first beams of light to avoid tourist crowds at the most popular Kyoto sight, the Fushimi Inari Shrine.
The guides tend to overestimate the time needed to visit the place, even if you choose to climb Mt Inari to the summit. So the chances are you will still have a lot of time until the evening.
During sakura season, the Philosopher's path along the river is a recommended place for an afternoon walk. At the time of my trip, the blooms in Kyoto were already gone so we actually skipped this one.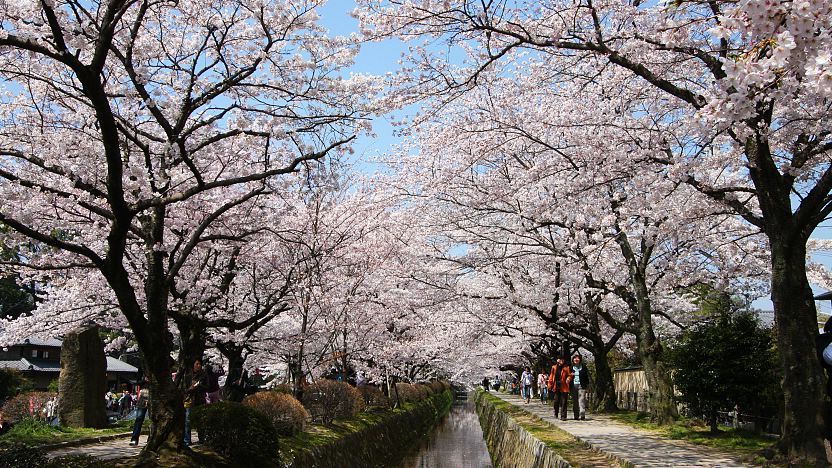 Alternatively, visit the rest of Fushimi district which is known for its many sake and Japanese whiskey factories.
It's popular among tourists here to take a boat tour on a river with many cherry blossom trees on its banks.
The cruise was kind of disappointing though: 30 out of 50 minutes you spend in a park waiting for a return boat. It was also way too expensive for the value.
Spend your last Kyoto evening in Gion district in a company of geisha to make it truly unforgettable.
Those who can't afford a dinner with a high class entertainer may want to see performance of maiko – geisha apprentices – at Gion Corner theater, or just walk around the area in an attempt to spot one. At Gion it is also easy to find dinner options for any taste and wallet size.
After dinner, take a walk along the river. Pontocho, the nightlife area, will tempt you from the opposite side to visit one of its bars. River view is included if you're lucky to find a window seat.
Conclusion
A mere tourist has no chance to discover even a hundredth of Kyoto's history and secrets.
Obviously, this itinerary is just a tip of the iceberg and covers only the most famous and popular places of the city. Did I miss something unbelievable and unique? Almost definitely. Share your secrets in comments 😉